As I was brainstorming content, I came across a post from Kelly Diane Report who shared The Blogtober Tag where you answer Halloween themed questions. I decided why not do this myself in today's blog post. Let's get into the spooky questions…
What is your favorite scent
When I think about fall, my mind always go to the scent of the Leaves candle by Bath & Bodyworks. Even though I don't own it anymore, the smell has been engraved in my memory. It's descriptions shares it's a mix of crisp red apples, golden nectar & warm clove spice.
Do you prefer pumpkin pie or apple pie?
I'm a huge fan of apple pie, especially when it's warm & added with some vanilla bean ice cream
What is one autumn tradition you have?
When I was younger, we would go to a local farm in the area & go to the pumpkin patch to choose the pumpkin we were going to carve. I still sometimes go to the same farm for nostalgia sake & enjoy the views & food. Other "traditions" would be watching Hocus Pocus every year or drink apple cider.
What are you most excited about in fall?
I love the way the leaves change color. When I take walks, it's nice to admire the scenic foliage & I'm grateful for living in an area that has a change of seasons. But I also love all the activities we do during fall including The Renaissance Festival, wine tasting events, Octoberfest & Halloween events. Of course, we haven't gotten to do those types of large gatherings in a while because of the pandemic, but I'm hoping we can do some of those activities this year.
What is your favorite scary movie?
I'm not the biggest fan of scary movies, however I do enjoy a true crime documentary. I guess you could say prefer the real life stories over folklore. But my biggest memory was watching The Ring when I was in middle school & to this day find that girl with the long black hair to be scary as hell. I definitely thought she'd come out of my tv at night when I was younger.
What is your favorite Halloween candy?
Reeses Peanut Butter Cups – & usually we don't give these out to trick or treaters anymore because of peanut allergies…so, more for me!
Favorite pumpkin spice flavored thing
Yes, I'm another one of those basic bitches who loves anything pumpkin. Pumpkin bread, drinks etc…
What is your warmest fall memory?
Sitting under this maple tree we had in the front yard when I was growing up. I'd sit under their & read books for hours. But also one year, my family threw me a Halloween slumber party with 20 of my friends from private school. We had bobbing for apples, dancing, pumpkin painting & the entire house was decorated perfectly for Halloween. It's the reason why I love the holiday so much.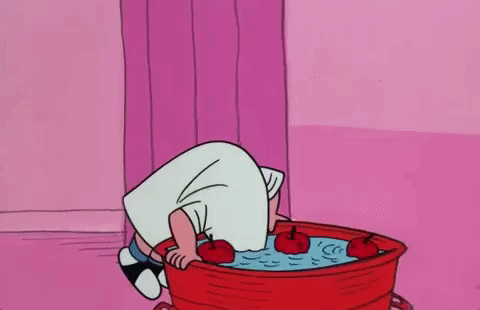 What is your favorite autumn must have?
A quality oversized sweater comes to mind for sure because I love staying cozy this time of year. I'm definitely going to add a few new pieces to my wardrobe.
Instead of tagging a group of bloggers, I'm leaving it open to whoever wants to participate. This was a fun Q&A to do for Blogtober & a great addition to the lineup if you are looking for posts to write about. See you all tomorrow!
be sure to check out yesterday's blogtober post here: What To Watch This October
-B