It's that time of year again, where people scramble the stores & online to meet their holiday shopping expectations in the hopes of finding the perfect gifts for the people in their lives. Why is it we set such high standards during the holiday season? Is it because we have this innate goal to please? Are we trying to prove our worth to others through material items? Or are we using the holiday as an excuse to fuel our addictions? Lots of questions. And I'm ready to dive into my thoughts on the whole experience & how we should handle it if we do decide to participate.
I was never someone who had an urge to go out shopping for 6+ ungodly hours, waiting in long ass lines & spending money I don't have on gifts & items for myself just because it's a good deal! It wasn't until I met my boyfriend & his family when I was truly introduced to the event.
You see, every Thanksgiving, after we have our feast, we all load up in a huge SUV & head to the outlets as early as 7p.m. We go from store to store buying clothes, electronics or whatever gifts we may need for the season & of course a few treats for ourselves. And we go hard! Once we hit the Starbucks drive thru & get our caffeine fix, we rush the stores & come across some real finds. And honestly, it's such a fun time! I mainly enjoy it because it's my way to spend quality time with his family (who have quickly became family to me). So, in a quality time with people you care about type of perspective, I'm all for it!
On the other side of things, I was taught to get as much of your Christmas shopping finished before Halloween. Why? Because at least in my family, shit gets so busy that time of year. So, we've learned to get it all ready as early as possible. Plus, once the holiday season rolls around we like to enjoy the festivities & decor instead of being stressed out & on a frenzy trying to get everything done in time.
I don't even know if Black Friday is even a thing this year? I can just picture the corona virus waiting patiently as they watch swarms of people in line to these department stores like the meme below. Thank you, online shopping! So, if you do decide to jump on the deals train, here are my tips on how to do it in the best minimalistic way possible.
MAKE A WISH LIST
Even as someone who is participating in a Low Buy & Project 333, I still have a few clothing pieces in mind to add to my wardrobe. I'm always on the hunt for items that will add quality to my collection. Plus, I've decluttered quite a few items during quarantine, so I'm running a bit low on outfit ideas. Here are a few things I'll be on the hunt for:
Workout leggings: Thanks to quarantine, I lost 15 pounds & have created a nice routine for myself. If you want to know more about my Health Journey, check out my post about it here. With that, I'm in need of more leggings. I love the ones from Aerie. And during Black Friday, they are usually on sale for half the price. So, I like to stock up!
Bras: I need a serious upgrade & revamp of my bra collection. I am personally so sick of Victoria Secret. The quality is just not there & the prices are ridiculous. I'm sick of reading PINK all over my lingerie. So, I'm on the hunt for some different brands & styles. Target actually has great ones from the brand Auden that I'm obsessed with.
A Lounge Chair: This might be a Cyber Monday find off Wayfair. But I am on the hunt for a nice reading chair for my blogging office / beauty room. Right now I still have this black couch from Ikea & it is just NOT THE VIBE.
HUNT FOR BASICS
If you are trying to cull your wardrobe, you have to start with the basics which are the bones to any look. I don't know about you, but I can be really sleeping when Black Friday shopping, so the easier the item the better. I love shopping for neutral tees, cardigans or camisoles. I know I will get use out of these items & they help build a look. Plus, you can usually find really great deals such as 2 for $10 or even 5 for $5 at some places.
DON'T FEEL LIKE YOU NEED TO BUY ANYTHING
There is a pressure surrounding Black Friday where you feel like you need to come home with at least something. But really, you don't. Never buy something if you don't need it. Sometimes I just tag along for the ride & only window shop. Even with markdowns, money spent is still money, so stay smart with your purchases.
DON'T BELIEVE EVERY DEAL & FREEBIE
I used to go to Victoria Secret for their underwear sale, just to get the free tote. I never really needed the underwear, the underwear choices always ended up looking hideous & the free tote wasn't that great either. Then I would come home with stuff that ended up in the donation bin a month later. Don't recreate future clutter for yourself.
SHOP SMALL BUSINESS SATURDAY INSTEAD
Especially during times of Covid, where businesses are struggling, why not give back to these smaller companies? I love the idea of giving the underdogs a chance & promoting brands that are homemade, sustainable & not mass produced. You actually find some unique gifts this way too!
Here are a few small business I've discovered you should check out for your holiday decor / gifts:
Happily Rustic : Aren't these ornaments darling!? These beautifully handmade wood sliced photos can be made into lovely plaques, coasters, ornaments for your tree & even keyrings. I personally love sentimental gifts like these. How perfect would it be to receive one of these from your significant other with your favorite couple photo? Newly engaged? Why not document the monumental moment with a dated ornament and photo! Or do you have a family photo you want displayed? These wooden slices could even be tied to a wrapped present as a name tag! The possibilities are endless. I definitely want to get one made.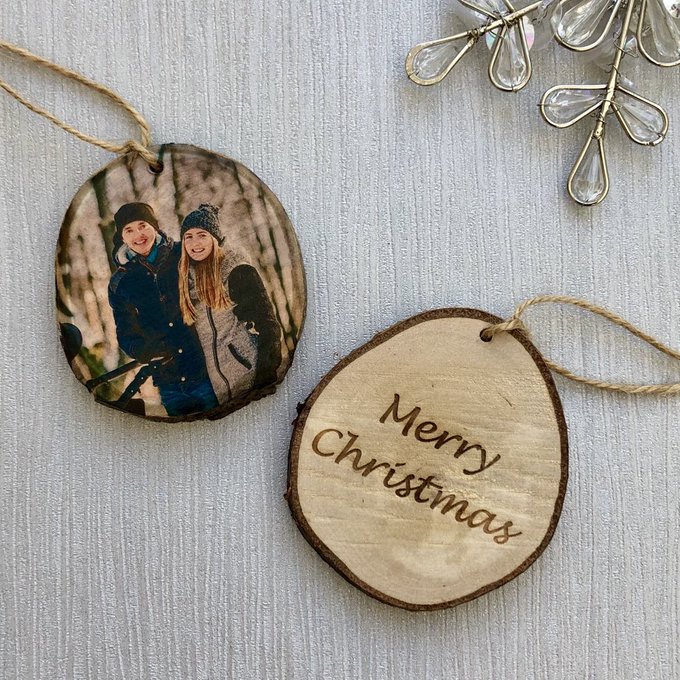 Intentional Gifts Co: This one is for all my fellow crystal lovers out there. These handmade candles, jewelry & jars are perfect gifts for the holiday season. Can you say, stocking stuffers? All items are listed in specific categories based on your needs – ie. stress & anxiety, negative energy, love & communication…the list goes on & on. My personal favorite is this one shown below called Purple Courage. The names of all the products are just so neat!
Naked Brush Studio: These just scream my brand! This minimalistic artist creates custom drawings & paintings. They are perfect gifts for new homeowners or those looking for a unique handmade piece for their space. These would look so nice in my blogging office.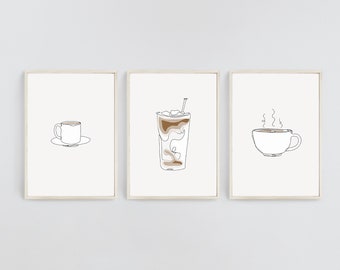 AKINAHS LLERON: These candles are gorgeous looking! I mean, the labels & the containers alone are perfect to add a bit of elegance to your home decor. This company is a black-owned candle shop selling handcrafted soy candles & other handmade products to enhance your self-care routine. I mean, who doesn't love self care?!
Jasmine Creates : Handmade canvases & ornaments that are just too darn cute! She is very talented! I am obsessed with these, especially the Charlie Brown themed items. Currently she is having a sale to make room for holiday themed ones, so get on those deals! Can't wait to see what she has in store for the holiday season.
Pennies Places & Paws & Brivaye: How cute are these?! These handmade wooden ornaments are perfect for your Christmas tree or present tags. Pennies Places & Paws are partnering up with Brivaye to give out your very own personalized wooden ornament. The giveaway lasts until December 14th, so get yours today! And stop by Brivaye's IG to see what other amazing creations she can make for you this holiday season.
CraftyKTCraftyCorner: This etsy shop has tons of handmade gifts for the holiday season, but I want to focus on the facemasks. We all know the coronavirus is still with us, so why not be festive about your facemask attire. These ones with gingerbread men are super adorable.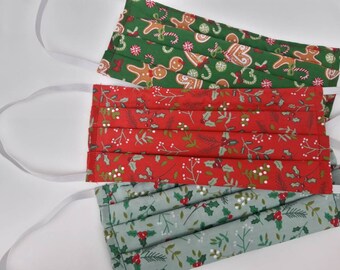 Have you done your holiday shopping yet?
Follow me on my socials:
Instagram / Twitter / Pinterest